As promised, we're going to try and bring back the meltdowns after a season of none. A recap of what a meltdown is: A Meltdown is a collection of comments from opposing fans message boards/fan sites that are arranged by chronological order to the best of our ability (multiple sites by time stamps, etc.). They're not insulting anyone, it's just a fun observation of how a fan base's emotions move throughout the game.
Tonight's meltdown was fun. No real officiating bashing and was a lot of self deprecation on the Hornet's side. Their use of GIFs is nice and they wished no injury upon the Thunder, as we've seen in other fan bases. So, enjoy!
Let's get it!!! Looking for the youngsters in the front court tonight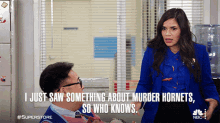 We're about to wax these dudes
looking at OKC's roster and if we can't beat these guys easy then looooooooooooooooooooool
We have the most amazing fake COVID crowd. Hands down. Best in the league.
Rozier still Hot!!! 
Rozier definitely wasn't lazy in the offseason. Good grief.
Look at LeMelo go!
I mean, its kind of hard to defend Lamelo when he gets in the game and immediately hoist up a 3 like he's **** Ray Allen
My high school team can out rebound this team
Sort of solid quarter… Lamelo & Rozier we need more support
devonte man….. he gotta know you can't force that smh
i can't believe poku is playing
His body is hilarious to watch. Glad we're getting to see him.
We're alright could be better
they're playing better, but you'd really like to see this team separate from OKC
How many times is McDaniels going to do the Euro-Step-Right-Into-The-Defender-And-Toss-Up-Some-Garbage move?
officiating has taken over the flow of the game.
I don't like to do this but man are we getting some bad whistles
i would get upset with the refs any other night but we turrible.
SGA Pushes off every time he drives
so does Lebron
we should be up 20 lol
Our interior defense is comical
Why the **** does JB seem to insist on yanking Melo as Melo is looking like he's getting going?
Miles' position may as well be Energy Drink.
I'm actually disgusted at how bad PJ has become at basketball
the rozier/graham backcourt ain't guarding anybody lmao
Was watching Jingle all the Way with the family. Reviewers got it wrong it's one of the goat Christmas films
Our offense resembles one of my pick up games back in 1992.
Grant Hill straight up ran right past them
Well, he is a Hall of Famer.
Colder than a well diggers ass to start the 2nd half
Wow can't hit wide open shots
really hurts to watch Cody brick a wide open three that bad
Even worse it was Caleb, and that's supposed to be his thing
Refs hate MJ's team
The offense this 3rd quarter is giving me 2011-12 Bobcats flashbacks
Can't believe we are only down 5.
Man we are BAD. Defense, shots at the rim, even point blank layups
If we were playing a better team we'd be down 30…Unwatchable.
Talk about playing down to the opponent, OKC is in hard rebuild mode, no way we should lose to them….
Never a good look when Hamidou Diallo, Theo Maledon, ShamalamaDingDong Dort, and the Serbian String Bean run your team into the ground
McDaniels has been a sh*t show this game. STOP DRIVING!!!
imagine if poku didn't have a greenlight lmao okc tanking us back into this game and we don't even want it
is there anyway we can just SIM this season to the lottery?
we been off 9 months and still looking unprepared
So many missed lay ups it's just nuts
I can't remember watching an NBA game where shooters keep gathering their own misses over and over and over. It's sickening.
The Hornets have made me laugh a number of times tonight for bad reasons
Instant reaction is burn it all down and start again…
This score line is absolute fools gold.
clutch tanking by OKC. i've seen a lot of tanks but this is impressive ngl
THE MILES BRIDGES GAME WHERE WERE YOU WHEN IT HAPPENED
This dumb game deserves an overtime where we play Biz and Caleb Martin the entire time.
WTF is happening hahahaha
Wow, this is some luck.
SGA with the dagger. Ouch 
sometimes you drop 40. sometimes you miss the whole backboard.
I didn't expect us to be trash.
Damn we really might end up with Cade Cunningham after all
We invite you to follow Thunder Digest on Twitter and like Thunder Digest on Facebook. Don't forget to subsribe on Youtube! Our Podcast is on iTunes and on Stitcher. We also have a Thunder Digest Instagram account if you love fun Thunder photography!